Bounce Houses, Water Slides, & Party Rentals in North Port
Plan things right for your children's next party or special event with Do The Happy Bounce. When you want to bring some real fun to the day, nothing does it better than a bounce house rental. Do the Happy Bounce offers affordable and safe bounce house rentals, water slide rentals and party rentals in North Port, Florida. We serve the areas in and surrounding Sarasota, North Port, Venice, Port Charlotte, Englewood, and Arcadia. We're a local family owned business with a commitment to safety and your satisfaction. Don't let your next party be a dud. Affordable inflatable party rentals can turn an ordinary kid's party into something quite spectacular. Our range of inflatable party rentals can give you inspiration to take any event to the next level. Imagine any inflatable you've ever seen, and even those you haven't, and chances are you can hire them right here at Do the Happy Bounce. To say our inventory is extensive would be something of an understatement. We even have an inflatable nerf shootout that can provide fun for the kids, and the adults that are kids at heart. Challenge between friends or compete in groups. The possibilities are limitless. Our inflatable basketball shoot could be another popular attraction for your next party. Great for kid's birthdays, adolescent parties, or some fun at your corporate family day or staff event. With inflatable party rentals you can bring a whole new element of fun and interactivity to your next event. Explore all of our inflatable games and unique designs today
Bounce House Rentals
Kid's love to play, and there's nothing that can bring out the fun quite like a bounce house rental. We specialize in custom bounce house designs to bring something completely unique to your next party. From Spiderman and pirate themed bounce houses, to our modular bounce houses and dual lane slide combos, you'll be able to find the best inflatable to suit your party concept and budget. Our bounce houses are made from the highest quality materials and are designed for safety first. Our combo bounce houses can be used both wet and dry under adult supervision. Custom bounce houses will keep kids entertained for hours, while also giving them an excellent form of exercise. Let the adults relax while the children expend their energy in the best way possible.
Bounce House Options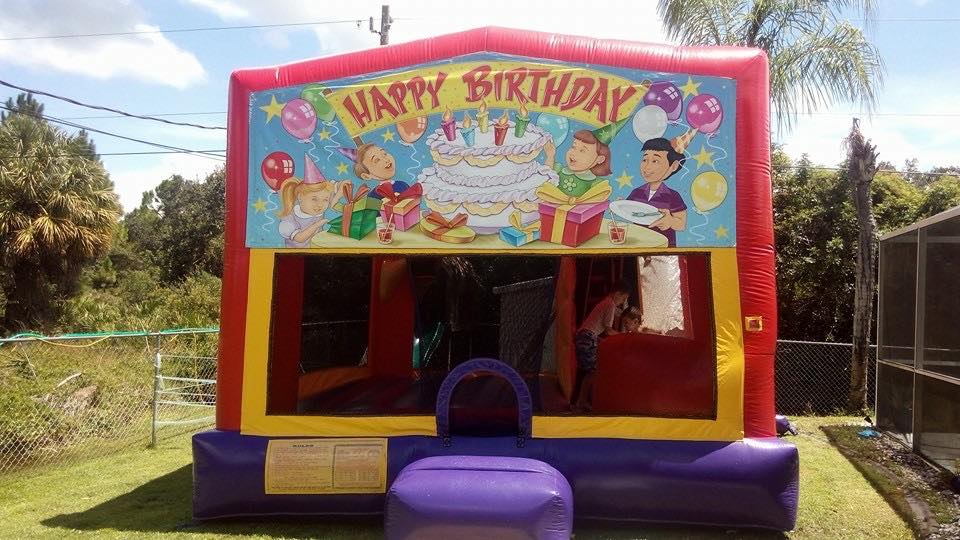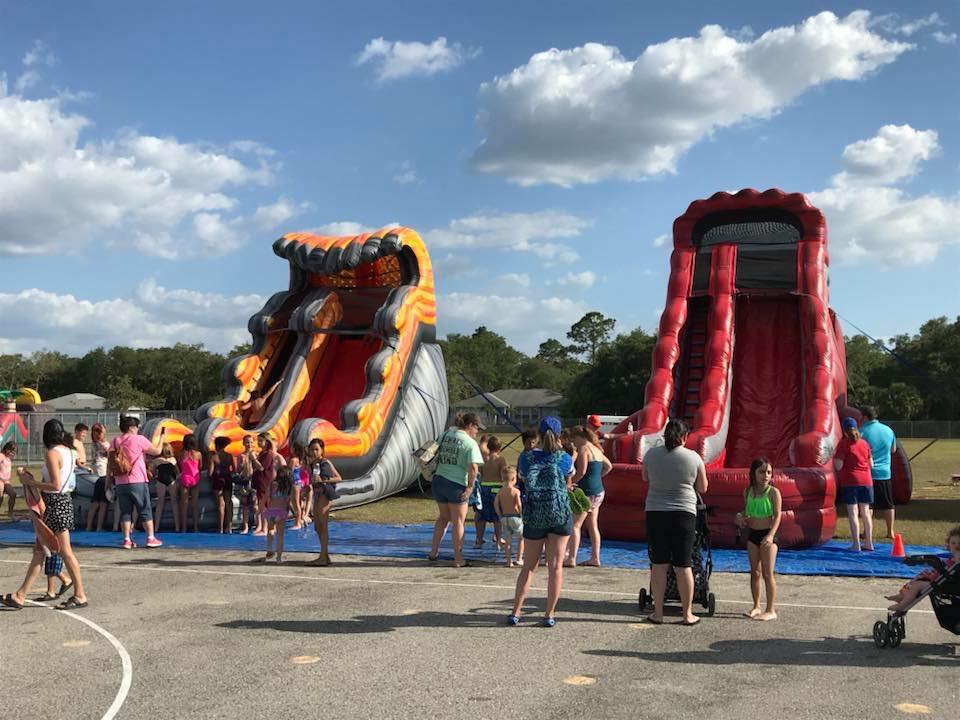 Water Slide Rentals
We have your relief from the sweltering Florida summer heat! Water slide rentals are exactly what you need for your next party. Our slides are perfect for family reunions, kid's parties, or even special corporate events. We offer a complete range of water slides for you to choose from for your next special day. You'll find some of the most exciting water slide rentals in the industry, right up to 27 ft. slides that will bring some real excitement to your next party. Whether you want something small and safe for children under 13, or something for the daredevils to enjoy, our inflatable water slide rentals give you plenty of choices. Our Slides can be set up on almost any surface, providing you book in advance and let us know the details. Whether on concrete, paving, or grass, you could offer a unique attraction that impresses your guests and makes fun a central theme of the day. View all of our water slide rentals and slip 'n slides today and contact us to book for your next event.
Water Slide Options
Order-by-Date
Bounce House w/Slide (Wet/Dry) 13&Under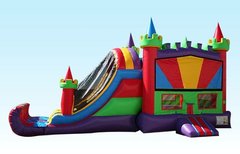 Slides (Wet/Dry)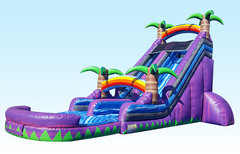 Interactive Games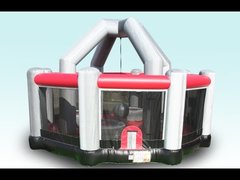 Bounce House w/Slide (Dry Only) 13 & Under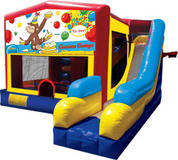 Carnival Games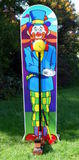 Bounce Houses 13 & Under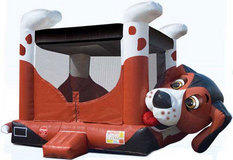 Concessions & More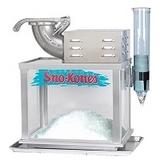 Dunk Tanks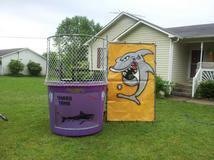 Face Painting, Air Brush & Glitter Tattoos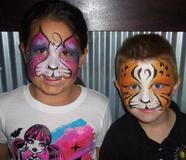 Rock Wall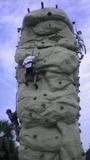 Bungee Jump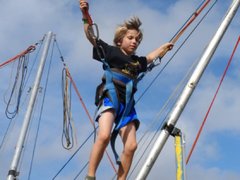 Do The Happy Bounce offers a Complete Range of Kid's Party Rentals for any Special Occasion!

Looking for something completely unique at your next event? No matter what you have in mind, you will find options at Do the Happy Bounce.
- Create a challenging and thrilling attraction with a rock-climbing wall. Great for fairgrounds, markets, sports events, and much more.
- Bungee rentals are another unique option that could bring excitement to your next event. Safe, fun, and enjoyed by all ages, you can book bungee rentals in Florida today.
- We can offer professional Face Painting, Air Brush Tattoos, and Glitter Tattoos for your kid's party or special event. Spark creativity in children or even adult guests.
- Book a Slime Machine, Big splash, or Dunk Tank to incorporate into group activities and challenges.
- An entire range of Carnival Games are available for rental. They're perfect as kid's party rentals and for fundraiser events.
- Want to provide fun fairground food for your guests? Rent a Sno Cone Machine, Hot Dog Stand, and other concessions stands.
- We also provide a complete range of accessories including Party Chairs & Tables. Let us take care of your party rental needs.

Don't ever host an average party again. Make it special with kid's party rentals from Do the Happy Bounce.

We delivery to your Location!
We offer bounce house rentals, kid's party rentals, and a range of inflatables for delivery in:
Sarasota
North Port
Venice
Englewood
Port Charlotte
Punta Gorda
Nokomis
Arcadia
Nearby areas in Southwest Florida

We will deliver to your home, commercial property, church, school, or anywhere that you are setting up. At Do the Happy Bounce we are committed to your safety and full briefings are provided before handing over equipment. All of our products are thoroughly cleaned, tested, and sterilized before delivery. Rent any of our inflatables and party games with complete confidence, knowing that your guests will be safe and protected.

Ready for the Best Party You've Ever Had? Get Bounce House Rentals in Florida It's time to do parties better. Whether you want to bring out the smiles at a private event, or even if you want to organize a community fundraiser, we can help you to present the most exciting, interactive, and memorable parties yet. Surprise your child with a bounce house rental this year or browse inflatable party rentals for your next corporate event. With everything from inflatables to generators, and even concessions, Do the Happy Bounce is a local family owned business that you can rely on.